This course teaches how to use the features of the Identity Panel core framework to report, clean, and restore Identity data.
Course History and Future Events
Duration: 1 day
Who is this for?

This course is designed for:
Active Directory engineers responsible for security and integrity of identities, groups, and their permissions.
Application Owners who want to understand how to secure their application access
Security Engineers who want to understand how to protect the company from one of its largest risks (according to the Guardian)
Compliance Engineers and auditors who need compliance reports
... and need the skills to:
Create reports to detect quality issues with your identity data
Perform bulk clean-up of Active Directory and other access directories
Recover and restore identity data to Active Directory, and other targets, including Office 365.
Prerequisites
Own a subscription to a Knowledge Package or anyone who is considering purchasing Identity Panel
Be an level 2 engineer or developer in one of the data sources you plan to use with Identity Panel, which must include one of the following:

FIM/MIM
Azure ADConnect
Active Directory, LDAP
SQL Server, Oracle, or MySQL
ADFS
Office 365
Exchange Server

You must have attended the following courses:
What you will learn

Understand how Identity Panel protects the enterprise (refresher).
Understand how Identity Panel fits into you Change Control process and brings your organization in compliance with SOC II Type 2 audit and other standards (refresher).
Implement and adjust pre-configured reports from the SoftwareIDM library, including for GDPR and non-repudiation compliance.
Build new reports to satisfy additional use cases.
Learn how to fix identity problems in your enterprise Identity Panel has unearthed.
Learn how to restore identity data after unexpected or unintended loss (e.g., OU deletion in AD).
The diagram below shows how this course fits with suggested learning tracks.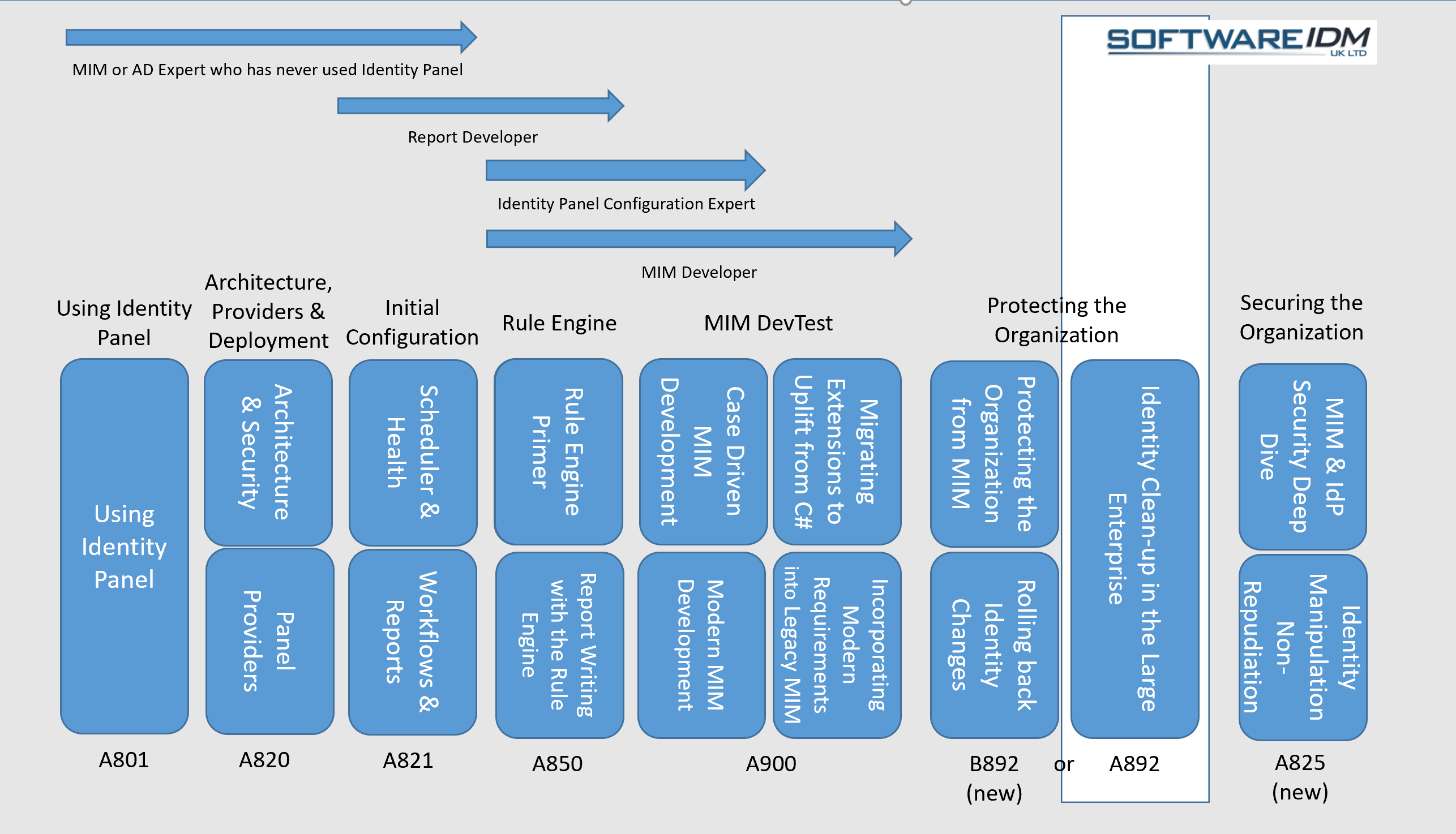 Venue
Venue is at a customer facility, and therefore, is not posted here. Please email customersupport@softwareidm.com for venue details. Please RSVP to obtain permission from the customer to enter this facility.
Suggested Hotel
Hilton Cambridge City Centre
20 Downing Street
Cambridge, England CB2 3DT