SoftwareIDM will host Using the Identity Panel Suite in Kansas City on Monday, 23 October 2023 at 9:00AM daily until 5:00PM. This course is designed for those who need an overview of the Identity Panel Suite and its core capabilities.
This revised version of A801 covers Identity Panel, Identity Panel with Microsoft Identity Manager (MIM), Identity Panel with HyperSync, Identity Panel with Azure AD Connect, Test Panel and Service Panel. This is course is part of the Knowledge Package.
If you are new to SoftwareIDM and the Identity Panel Suite, including HyperSync, this is the course to attend. This is your starting point, and prerequisite for most other courses.
This course is day one of a four-day series, where you pick and choose your course(s).
<<This section to be updated for Kansas. -Ed>>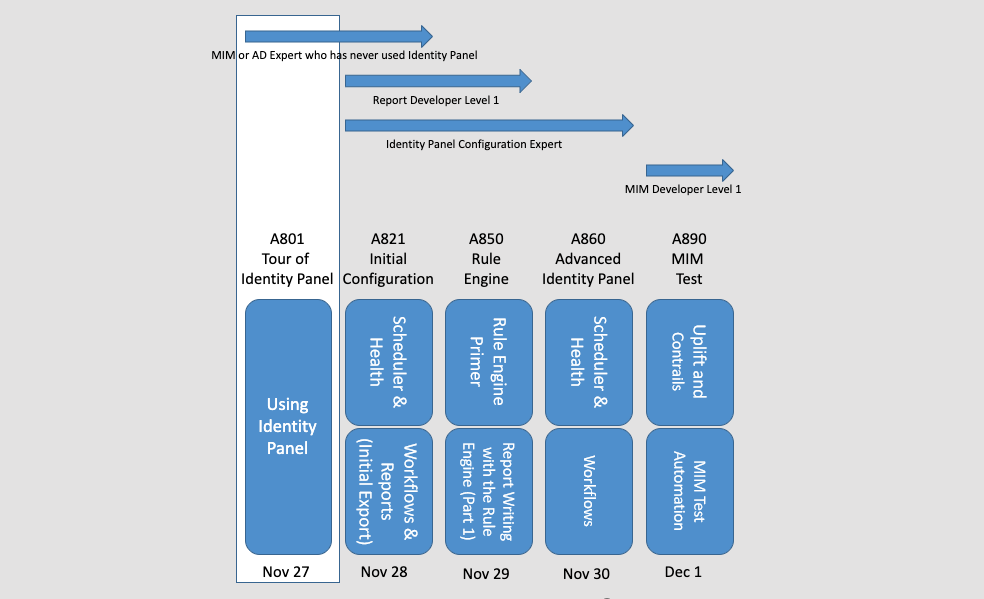 Recent A101/801 Course Locations and Dates Include
Future A101/801 course locations and dates
London, Austin, Palm Beach, and New York dates being planned.
Additional event announcements
Course Syllabus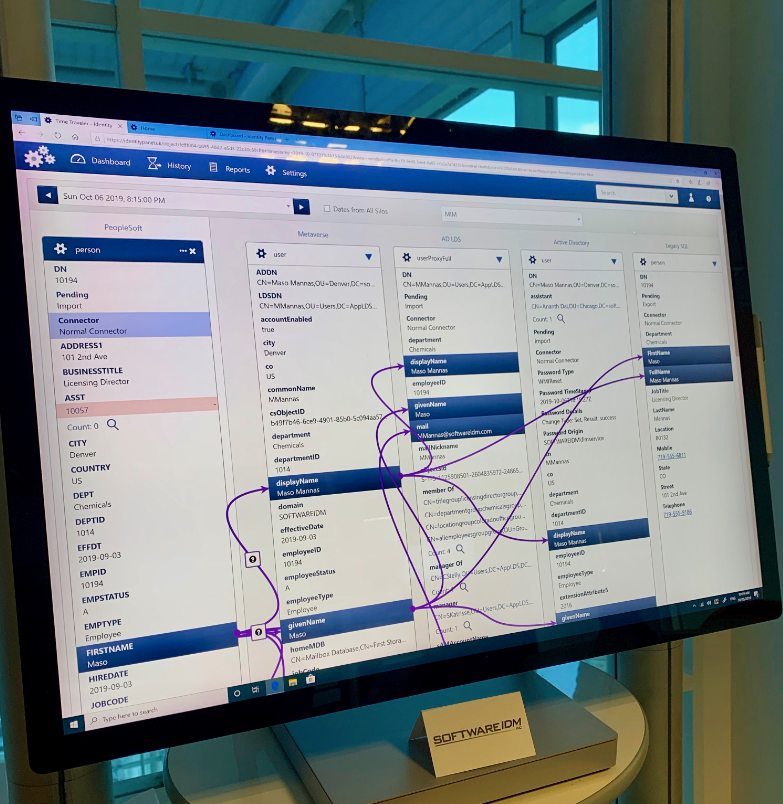 Identity Panel Suite
Identity Panel Suite Identity Panel


Identity Panel - a vendor neutral identity management umbrella for companies managing
identities, identity lifecycle systems, and identity platforms. It is the core component required
by the other 4 applications.
HyperSync - a fully customizable synchronization engine to propagate identity information
across systems.
Service Panel - a customizable portal for fulfilling self-service identity management requests,
and approvals.
Access Panel - a governance application that can provide Roles Based Access Control (RBAC),
Attribute Based Access Control (ABAC), Access reviews (AKA Attestation, certification, or
recertification), and Just in Time (JIT) access management/Privileged Access Management
(PAM).
Test Panel - provides automated testing for identity lifecycle and provisioning systems.

Identity Panel Basics

Providers, silos, schedules, and scans
Dashboards
History
Reports
Time Traveler

Lab 1
Instructors: Peter Sidebotham and Bob Bradley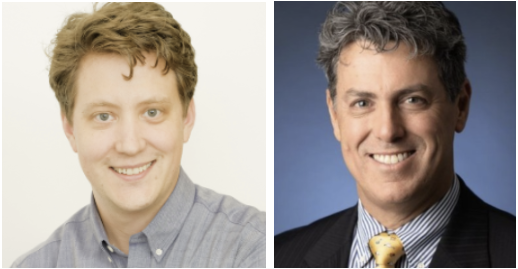 This course repeats and is part of a series that is designed to allow you to pick and choose your course attendance days based on your learning needs. We hope you will learn and return for you next learning goal next year, since each topic will repeat, and new topics will be added. You choose only the days your need to attend this year, and then use what you learn, to only later return for more advanced learning. Training is designed to repeat and evolve to help you help your organization reach its implementations goal this year, next year, and beyond.
Important Notes Regarding this Course:
Hard copies of the course manual will be provided to attending delegates
Course starts at 9:00AM
Lunch is provided
You will need to bring a laptop with WiFi
Who should attend?
This course is ideal for anyone who wants to know how to use Identity Panel.
If you are MIM, Office 365, or Azure AD technical expert or administrator, but have not seen or used Identity Panel, Test Panel, Service Panel, Access Panel, or HyperSync, Monday is a primer for you. If you have used Identity Panel and are familiar with these products, even an older version, we suggest you skip day one and focus on more advanced topics.
Those who are considering purchasing Identity Panel and want a tour of the product and the monitoring, development, and reporting problems Identity Panel solves.
Those who plan to begin using Identity Panel, but don't need advance knowledge, and therefore, only need a single day of introduction training.
Those who are new to Identity Panel, and want to attend day two and beyond of the weeklong course program (attending day-one meets the further learning pre-requisite for those who have not used Identity Panel.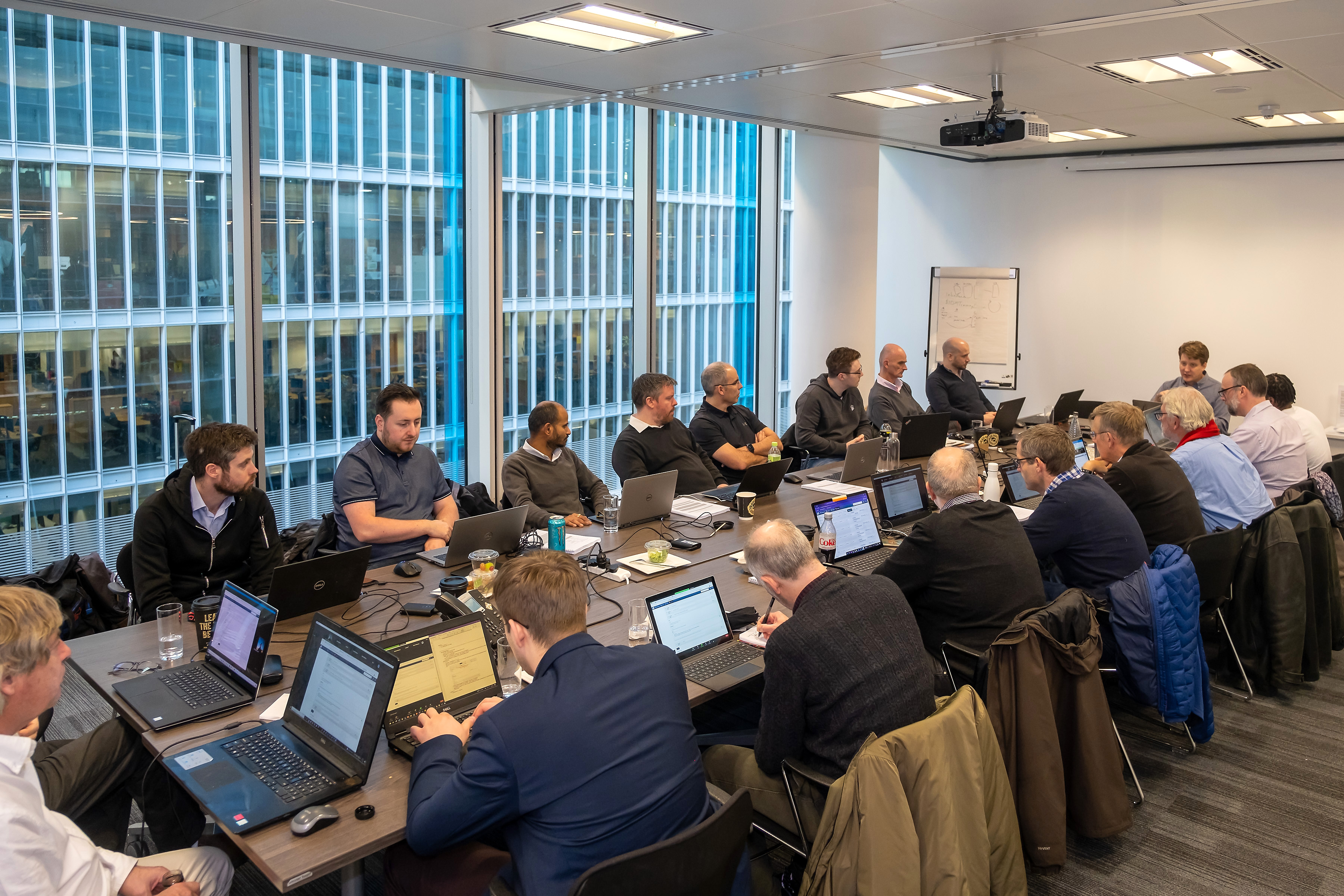 Photo: November 2021 Training - Nokia/Microsoft Building Paddington
Prerequisites
This course provides an overview of the Identity Panel Suite. You will usually be an engineer, developer, or architect in the technologies that will be used with the Suite. As a minimum, you should have a sound understanding of Active Directory and Azure Active Directory. Your role in your Identity Panel project will also play a part – for example, if you are going to responsible for reviewing the security of Identity Panel, you would need to be a security expert.
This Outlook invitation is for day-one only. Each day will have its own Outlook invitation you must use separately to RSVP for each respective day. Lunch, coffee, and snacks are included. Lunch includes a vegetarian option.
Venue: TBA
Suggested Hotel: TBA