COURSE ANNOUCEMENT
SoftwareIDM will host Service Panel training in London, U.K. on Friday 2 December 2022 at 9:00AM daily until 5PM. This course is the third in a five-day series and will include and focus on SoftwareIDM's newest product, HyperSync and Service Panel. HyperSync is currently available direct from SoftwareIDM and our integrators and partners.
This course is part of series being held the week of 28 November 2022 in London.
Additional M900 Course Locations and Dates
M900 covers HyperSync with Identity Panel, Service Panel, Access Panel, Access Panel PAM, and Test Panel along with Microsoft Entra solutions including AzureAD, Azure AD Connect, and Microsoft Identity Manager.
Instructor: Peter Sidebotham
This course repeats and is part of a series that is designed to allow you to pick and choose your course attendance days based on your learning needs. This course will be offered again in London 28 November. We hope you will learn and return for you next learning goal from our list of course topics for administrators and developers. You choose only the days your need to attend this year, and then use what you learn, to then return for more advanced learning in the future. Training is designed to repeat and to evolve your skills and product use. The Knowledge Package training is designed to enable you to help your organization reach its implementations goal this year, then the next, and beyond.
Important Notes Regarding this Course:
Hard copies of the course manual will be provided to attend delegates
Course starts at 9:00AM
Lunch is provided
You will need to bring a laptop with WiFi
Who should attend?
This course is ideal for anyone who wants to see what Microsoft Identity Manager (MIM) Portal should have become. Service Panel, along with Access Panel, is a front end or replacement for MIM Portal.
If you are Microsoft Identity Manager administrator, developer, or just looking for the best identity lifecycle project, this course on HyperSync is for you.
Those who are considering purchasing Servicing Panel and want a tour of the product
Those who want to understand the problems Service Panel and Access Panel solves, and want to know more
Those who are implementing and or operating Service Panel, and want hands-on training with this synchronization engine.
Agenda
9:00AM - Session 1 - Using Identity Panel. This session will introduce or reacquaint you to the Identity Panel Core Framework, which is an underpinning to Service Panel.
Time Traveler
Scheduler
Reporting
Workflows
MIM DevTest
This morning session is an abbreviated version of course A801 - Using Identity Panel. If you already attend this course, you do not need to attend session 1.
10:00AM - Session 2 - Overview of the Identity Panel and Service Panel Provider Architecture
This session will cover:
Web application
Panel Service
Cloud Scanning
Messaging
Access from the Managed Service Console
Panel Service hardware resources
This mid-day session is an abbreviated version of course A820 - Identity Panel Architecture, Providers, and Deployment. If you already attend this course, you do not need to attend session 2.
10:30AM - Session 3 - Tour of Service Panel.
Overview of benefits and features
How Service Panel relates to Identity Panel
Integration with MIM Portal and MIM Sync
Hosting and High Availability – SaaS and On-Premise
This morning session is an abbreviated version of course T711 - A Tour of Service Panel. If you already attend this course, you do not need to attend session 3.
11:15PM - Session 4 - Build custom themes
Add a theme to match your customer's brand and website. Add a logo and color pallet. Learn how to capture your customer's color pallet, and upload their logo. Add a hyperlink to their logo.
Also learn how custom URLs for your customer, giving them a branded experience from authentication page to within.
11:30AM - Session 5 - Customer cases. How customers are using Service Panel in the real-world.
Customer cases and popular use cases will be explored.
Employee directory
Photo opt-out
Code Red!
Updating contact information
Account Creation
Changing email domains
Azure B2C
Onboarding
12:15PM - Working Lunch begins
12:30PM - Session 6 - Introduction to Service Panel Requirements Gathering
This session will show you the process used to collect requirements from a customer. This process is critical to a successful project. This is an abbreviated version of course A812 - Service Panel Requirements Gathering & Design. If you have attended A812, you do may skip session 6.
1:15PM - Session 7 - Introduction to the Rule Engine Language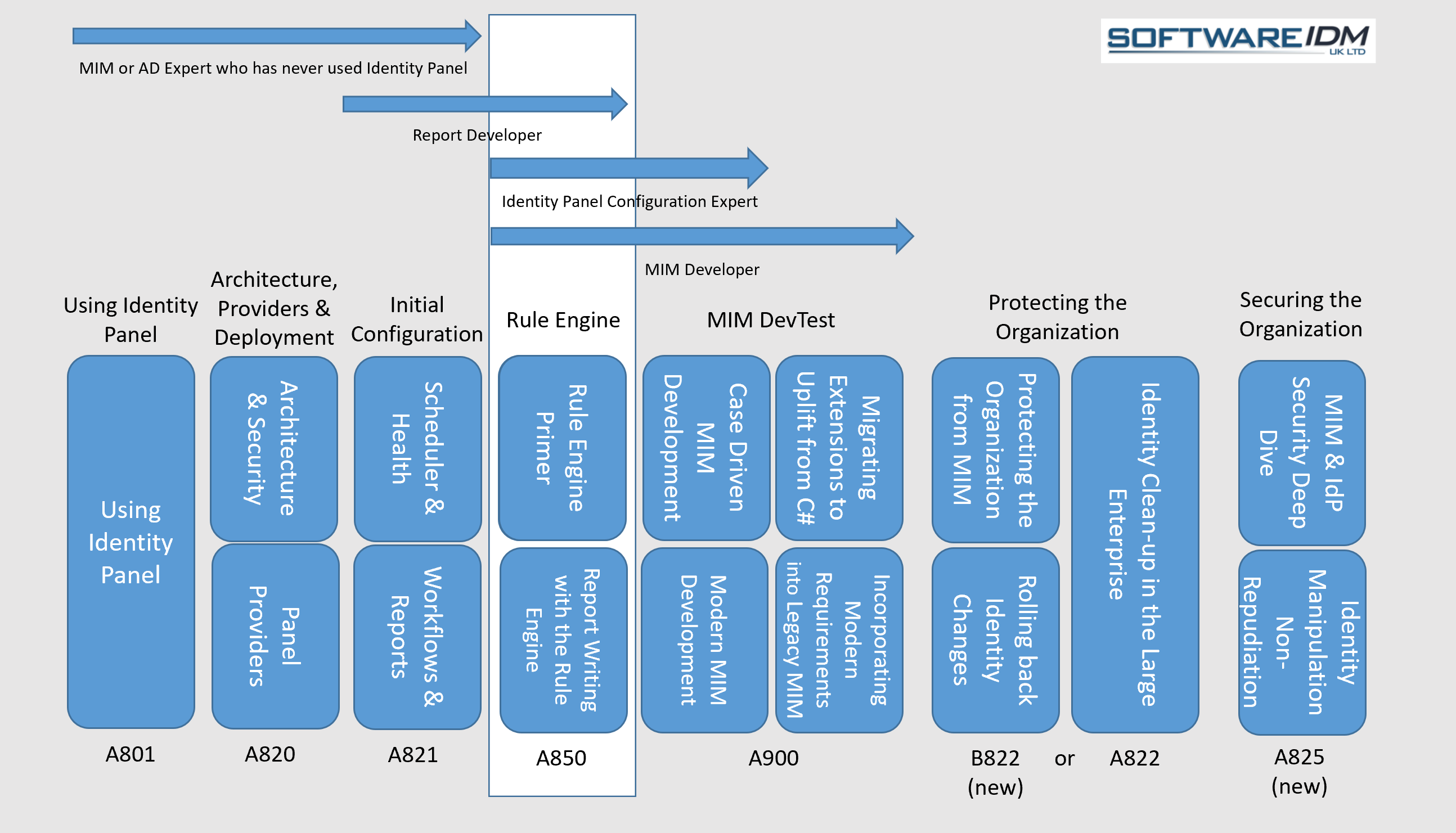 This session will teach you the Rule Engine syntax that is used by Service Panel. The Rule Engine will be familiar to anyone who knows the MIM Portal custom expression syntax. The Rule Engine offers a super-set of rules, and helpful tools for find just the right rule syntax or attribute name. The Rule Tester will show you how to unit test code and see the results.
This mid-day session is an abbreviated version of course A850 - Rule Engine. Course A850 is recommended for anyone who wants to expand their Rule Engine skills. Report writing will not be covered, but is covered in the full A850 course. If you have attended course A850, you may skip session 7.
2:15PM - Session 8 - Construct your required Virtual Identities
3:00PM - Session 9 - Service Panel Form
Learn how to construct the Service Panel forms. Expose them as RestAPIs to other application. Connect to Identity Panel DevTest for validation. Create behaviors, lookups, formatting, controls, and more.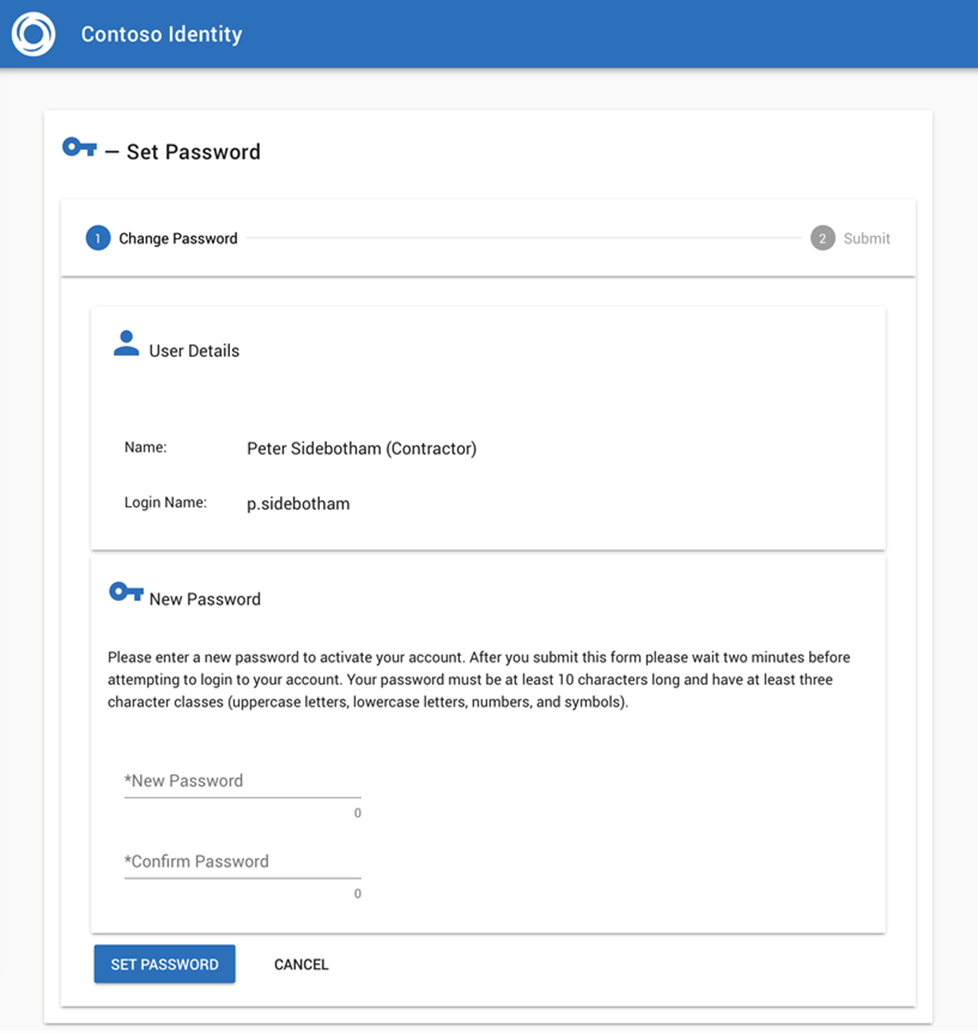 3:45PM - Session 10 - Fixtures - Provision and modify targets
Publish and modify your data across data targets using the concept of Fixture. Identity Panel DevTest uses Fixtures to stage and undo your test cases. This same Fixture technology is used by Service Panel to publish your data, and incidentally, is the same technology used by the MIM Service Port.
This course is similar to course A890 - MIM DevTest Case Development. If you have already attended A890, you do not need to attend day four.
4:00PM - Session 11 - Configure Data Target Integration
This short session reviews specific data targets, and how to connect to those with Identity Panel, an then write to them. This includes targets like Office 365, SQL, and more.
4:30PM - Session 12 - ServiceNow integration
Learn how to setup ServiceNow to fulfill tickets using Service Panel. This is an abbreviated version of course A890.